Real Madrid defender Dani Carvajal has sent a reply to Mohamed Salah after the Liverpool attacker said the Merseyside giants have ascore to settle against the Spaniards ahead of the Champions League final in Paris this weekend. Real Madrid and Liverpool meet at the Stade de France to determine who will succeed Chelsea as European champions.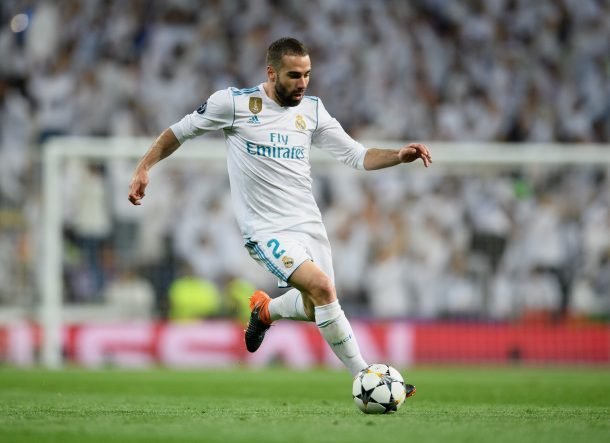 Spanish champions Real Madrid were still on the pitch at the Estadio Santiago Bernebeuafter their dramatic win over English champions Manchester City when Salah took to social media to say that him and Liverpool have a score to settle ahead of the Champions League final on Saturday.
In an interview with media outlet ABC, Carvajalsent a cheeky reply to Salah. According to him, hopefully it won't be a burden for the Egyptian to lose a second Champions League final.
Salah was infuriated when Real Madrid and Liverpool met during the 2018 Champions League final after he suffered a shoulder injury in a collision with opposition skipper Sergio Ramos. He went off injured during the first half of the game which ended in a 3-1 win for Real Madrid thanks to the brace from Welshman Gareth Bale.
Revenge would be on the minds of Salah and his teammates when they take on Real Madrid in the latest European Cup/Champions League meeting between the two teams. They will meet for the third time in the final of the competition on Saturday. Their first meeting in the final was in 1981 when Alan Kennedy scored with nine minutes left on the clock to win a third European title for Liverpool via a 1-0 win over Real Madrid. Real Madrid and Liverpool have one win each ahead of the third final meeting.
Ahead of their latest meeting in the Champions League final, Real Madrid have 13 titles while Liverpool have six titles.